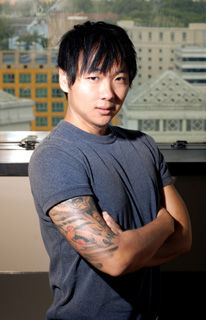 Feng Zhu, 33, founder of FZD School of Design
Setting up a design school was never on his agenda, but when Feng Zhu, 33, arrived in Singapore in summer 2008, he was a little dismayed by the lack of talent in the entertainment design industry within the island. He was initially planning to start a game development studio similar to one which he successfully established in Beijing. Like any savvy entrepreneur, instead of taking flight, he sniffed out an opportunity to build up talents for the industry and opened the FZD School of Design in June 2009.
Feng Zhu boasts a formidable background in the entertainment design industry Ė he was the concept designer for blockbuster Hollywood films like Transformers, Star Wars III and Teenage Mutant Ninja Turtles, and also worked on a string of popular video games like Lord of the Rings, Superman and James Bond. He also taught part-time in several high-profile design schools in Los Angeles, but the idea to start a design school never crossed his mind. He moved to Beijing in 2006 where he grew a start-up design company from a staff of 6 to 60 within several years. His creative spirit started seeking out for another project, and this instinct brought him to Singapore.
Of late, Singapore has welcomed creative giants like Lucasfilm and EA on its shores and strong support from the authorities has encouraged design entrepreneurs like Feng Zhu to set up shop in Singapore. In his pursuit to open a game development company here, he garnered enthusiastic support from EDB and MDA but had to alter his plans when he stumbled upon difficulties in forming his core team. Exporting talents from the US was not a viable option as he could not afford the high fees they fetch.
After discerning the advantages of starting a design school here, Feng Zhu moved to Singapore in January 2008 and partnered up with 3dsense Media School and WDA to start work on the school. In a matter of months, the school greeted its first batch of students, all 10 of them. The school offers both a full-time diploma programme and professional certificate courses. All of its courses are MOE-registered and certified by Case Trust. Currently, the school has 60 students, and Feng Zhu plans to keep it small. His focus is to produce industry-ready and highly-skilled designers who will help cement the school's reputation and calibre.
Feng Zhu speaks to Ebizsurf about his startup business and his thoughts on entrepreneurship.
Ebizsurf: What was FZD School of Design's startup capital?
Feng Zhu: FZD School of Design is a privately held company. Our strategic partner is the 3dsense Media School. Together, we raised a healthy amount of seed money to start the company.
Ebizsurf: How long did it take for the business to break even?
Feng Zhu: It took us less than one year to be in the black. A schoolís business structure is a lot different than the game studio I had in Beijing. We didnít need over two years to build a game and then sell it to the market to earn a profit. In a way, itís exactly the opposite.
Ebizsurf: What was the biggest challenge you faced in the the startup phase of the business?
Feng Zhu: A start-up faces so many challenges, especially in the first three months. One of these was finding the right core team. We underwent interviews after interviews looking for the best of the best Singapore can offer. It took us about three months to build up the initial team.
The other big difficulty was marketing. A school usually needs a bit of established history before students will trust it enough to enroll. All I had on my side was my work experience from the industry. But having WDA behind us early on really helped to build up that trust.
Ebizsurf: You've worked on a wide range of popular Hollywood films like Transformers and Star Wars. How did these experiences help you in the business?
Feng Zhu: Having industry experience is critical when it comes to teaching. Students are very smart, especially the younger ones. They can figure out very quickly if what you are saying is legit or complete rubbish. When someone teaches without actual work experience, students tend not to respect them. As a result, the growth of the school and its quality is limited. Itís just common sense actually. How can somebody teach when they have never worked in the real world?
Since I worked on these games and films, that knowledge is directly handed down to the students. This information is streamlined and to the point. This gives us a huge advantage of shortening the overall length of our diploma program to just 1 year. FZD is all about quality, not quantity.
Ebizsurf: How long did it take for you to develop the wide range of courses that you're currently offering?
Feng Zhu: A lot of the courses and planning came from my previous experience of teaching at other schools. For the past 7 years, Iíve studied their programs and figured out which courses offered the best solutions for the students. While teaching at the Art Centre College of Design, I also helped build up their Entertainment major. All this exposure reduced the time needed for me to plan out the courses at FZD. I wrote up all the information in about one month.
Ebizsurf: How big is the FZD School of Design team currently and what roles does it consist of?
Feng Zhu: We have a core team consisting of 10 people. Half of our team handles the administrative stuff and student relations. The other half is part of the teaching staff. We also have two team members helping with marketing (graphics, videos, websites, social networking, etc.) and public relations.
Ebizsurf: What were your initial expectations for the business?
Feng Zhu: Even though Iím not a very patient person, I understood that a school needs plenty of time to grow and expand. My early expectations was to just have enough students enrolling so we can prove our teaching experience. And this expectation was met and exceeded.
Ebizsurf: Describe FZD School of Design marketing and branding strategy in reaching out to the target market.
Feng Zhu: The most important aspect of our marketing is reaching out to the community. This comes in at many levels:
1. Building awareness for the design industry: Most people canít distinguish the difference between art and design; even though these two industries are not related. We host public workshops and free events to establish the foundations of design. We explain what our industry is all about and hopefully spark the interests of certain individuals.
2. Showcasing our students work: Itís vital to keep the public informed of what our students are capable of doing. The great work done by our students is essentially free marketing.
3. Reaching out to the international community; One of our most successful marketing strategies is through a series of free training videos called Design Cinema. Each week, we release a new episode onto our website as well as Youtube. These videos give the audience a sneak peak into the types of courses offered at FZD. They provide useful information, but not enough to obtain a full education. This usually ignites the passion from individuals who in turn contacts us for further training.
4. Having a big presence on the social network scene: Our target market tends to be young and very active on the internet. To reach them, we play on the same fields.
Ebizsurf: What are your thoughts on business competition?
Feng Zhu: For now at least, FZD sits in a comfortable area. There are no schools in Singapore (in fact, almost all of Asia), that provides design training geared for the entertainment industry. Schools here are separated into classical/fine arts or hardcore industrial design. If a student wanted to build up a portfolio to go into Hollywood films or games, they really donít have a choice. This is one of the main reasons why I started FZD.
In time however, this will likely change. The entertainment industry is too big to ignore. And if you look at Los Angeles, there are entertainment design schools everywhere (and they are all filled with students, even with high tuition fees hitting close to a quarter million USD). Thus, the same will likely happen in the next 5 years here in Asia. To stay ahead, I must keep raising the quality of education.
Ebizsurf: What is the business outlook for FZD School of Design for the next 5 years?
Feng Zhu: I want to expand the school to include more courses as it relates to the entertainment industry. These days, all of us are surrounded by entertainment; even in our everyday products such as cell phones and cars. The line between product, transportation, architecture and entertainment is getting murkier everyday. As a school, we must train students how to design in this fast moving environment. I donít plan to expand the number of students we take in per year however. I want to keep FZD focused on high quality and make sure each student graduate with a kick-ass portfolio.
Ebizsurf: Describe a typical business day for you as founder of FZD School of Design.
Feng Zhu: As a lecturer, I teach 3 days out of the week. On those days, Iím pretty much in class from 10am to 3pm. These are really intensive and hands-on classes, so after 3pm, Iím wasted. The only tasks I can do after class are lighter stuff such as answering questions on our Youtube channel. Rest of my teaching staffs usually wraps up class around 5pm, so I like to check in with them briefly to see how their day went.
On the days I donít teach, my schedules are completely packed as well. I am lucky to have an awesome administrative and financial staff so at least I donít have to worry about those things. My tasks mainly evolve around marketing and press. I come in at 10am, get some coffee (itís a must or I might as well sleep the whole day), and start reviewing what I need to do for the day. If I have ďbrain intensiveĒ tasks such as writing or doing interviews, I try to get those done in the morning. My afternoons are spent reviewing videos, graphics, edits, etc. coming from the marketing team. Around 5pm, we have staff meetings to go over everyoneís tasks. I also have separate meetings with my lecturing staff to check up on the courses as well as the students.
Ebizsurf: What business philosophy do you live by as an entrepreneur?
Feng Zhu: This one is easy for me. Always focus on quality and do the best you can. Donít be a follower of others. Trust in yourself and go with your instincts. Take calculated risks and have the guts to admit faults and learn from mistakes. Be firm with your decisions and show leadership. Set a goal for yourself and work your ass off to reach it Ė and donít expect hand-me-downs or help from others along the way. And most importantly, spend wisely.
Ebizsurf: What are your thoughts on doing business in Singapore?
Feng Zhu: Doing business in Singapore has been great thus far. The system is very clean and I feel secure here. Singapore is in a great geographic location and everyone speaks English Ė this alone makes it ideal to start business here (language and open communication was a huge issue in my Beijing studio).
It seems the government wants to build Singapore as a central hub for business, education and entertainment in South East Asia. I hope they stick with this plan in the next 5 years.
Ebizsurf: What would be the one word of advice you have for entrepreneurs reading this article?
Feng Zhu: This might sound generic, but itís so true: believe in yourself and count on yourself. When all the lights turn off at night in your business, thereís nobody there but you.